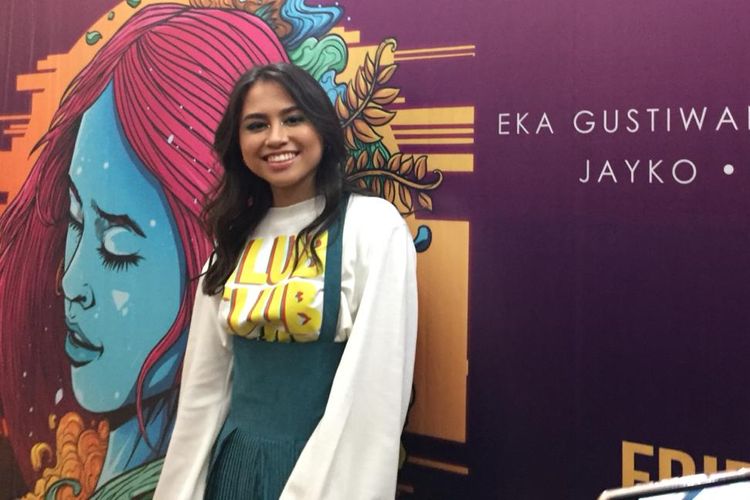 JAKARTA, KOMPAS.com – Nama musisi muda Andrea Turk baru-baru ini menjadi perbincangan setelah membawakan lagu "Tanah Airku" pada HUT ke-74 RI di Istana Merdeka, pada 17 Agustus 2019 lalu.
Perempuan yang merupakan cicit WR Soepratman ini, mendapat apresiasi setelah menyuguhkan vokalnya yang merdu.
Namun, baru saja mendapat sambutan hangat masyarakat Indonesia, Andrea Turk pada malam ini Jumat (30/8/2019), justru menggelar show case perpisahan.
Perpisahan ini terpaksa dilakukan Andrea karena ia akan mengenyam pendidikan di Amerika Serikat.
Konser ini akan dilaksanakan di Soehanna Hall, kawasan SCBD, Jakarta Selatan malam ini, pukul 21.00 WIB.
Persiapan konser bertajuk Intimate Concert: Andrea Turk and Gigantics itu terbilang mendadak.
"Insya Allah sudah 90 persen selesai, 10 persennya nanti malam," ucap Andrea di Soehanna Hall, Jakarta Selatan, Jumat (30/8/2019).
"Kurang lebih dua bulan (persiapan), benar-benar 'sks (sistem kebut semalam)' banget. Kebetulan Andrea teman-temannya baik-baik semua membantu, alhamdulillah hari ini bisa terjadi," ujarnya lagi.
Dalam penampilannya, Andrea akan melibatkan pula beberapa sahabatnya yang juga berkecimpung di belantika musik Tanah Ari. Beberapa di antaranya adalah Eka Gustiwana, Iga Massardi, Prince Husein, hingga Jayko.
"Andrea gelar konser ini karena Andrea ingin meninggalkan sesuatu yang spesial sebelum berangkat kuliah, Andrea mau memberikan yang terbaik untuk mereka yang sudah memberi banyak buat aku," kata Andrea.
Total, Andrea akan membawakan sebanyak 18 lagu miliknya yang sebagian besar berbahasa Inggris.
Hasil penjualan tiket konser nantinya akan disumbangkan ke YKAKI: Yayasan Kasih Anak Kanker Indonesia.
Andrea sendiri akan menjalani studi selama empat tahun di CalArts (California Institute of the Arts). Di universitas tersebut, Andrea akan mengambil program, Performing-Composing.
Sumber :
https://entertainment.kompas.com/read/2019/08/30/204244210/baru-menarik-perhatian-cicit-wr-soepratman-andrea-turk-malah-gelar