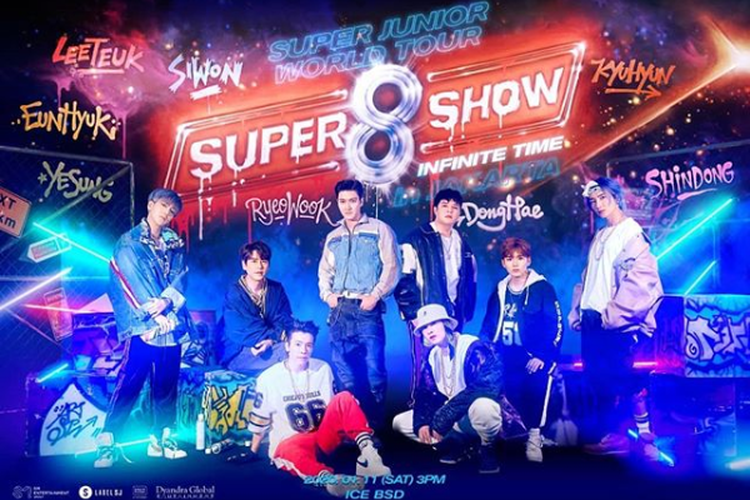 JAKARTA, KOMPAS.com – Kabar gembira untuk para ELF Indonesia!
Salah satu boyband legendaris Korea, Super Junior, bakal menggelar konser di Indonesia pada 11 Januari 2020 mendatang.
Informasi ini disampaikan oleh promotor Dyandra Global lewat akun Instagram mereka, @dyandraglobal.
"[CONFIRMED] ' SUPER JUNIOR WORLD TOUR – SUPER SHOW 8: INFINITE TIME' in JAKARTA. Saturday, January 11th, 2020, 3 PM," tulis Dyandra Global seperti dikutip Kompas.com, Jumat (29/11/2019).
Dari situ juga diumumkan bahwa konser yang merupakan rangkaian tur Super Show 8: Infinite Time itu akan berlangsung di Indonesia Convention Exhibition (ICE) BSD, Tangerang, Banten.
Namun, untuk penjualan tiketnya baru akan dikabarkan selanjutnya.
"Ticketing details to be announced soon! Promoted by @dyandraglobal. #SS8inJAKARTA #SUPERJUNIOR #SJ #SUPERSHOW #SUPERSHOW8," tulis akun itu lagi.
Sebelumnya, selain TVXQ dan EXO, Dyandra Promosindo pernah mengungkap bakal membawa satu lagi artis Kpop kondang ke Indonesia.
"Tahun ini kami bawa 3 artis. Ada TVXQ, EXO, dan satu lagi nih tunggu tanggal mainnya, konser di awal tahun," ujar Presiden Direktur PT Dyandra Promosindo Hendra Noor Saleh, di Kantor Dyandra Promosindo, Palmerah Selatan, Jakarta Barat, Kamis (26/9/2019) lalu.
Ketika ditanya lebih jauh boyband ternama yang bakal konser di Indonesia, Hendra enggan menjawabnya secara gamblang.
Namun, Hendra sedikit memberi sedikit bocoran tentang artis yang dimaksud.
"Iya tapi kita hoki, kita langsung dapat tiga artis sekaligus, itu package, enggak bisa satu-satu. Itu satu agensi. karena sebetulnya tiga-tiganya pop, cuma segmennya beda. EXO kan selling-lah ya. Dan TVXQ juga not bad," ucap Hendra.
"By rules gue enggak bisa (kasih tahu), pokoknya paling top di Korea. Ya, yang paling top. Ini sudah di ujung mulut gue (siapa boyband-nya), tapi gue terikat untuk enggak bilang hahaha," sambung Hendra.
Sumber :
https://www.kompas.com/hype/read/2019/11/29/194042966/pengumuman-super-junior-gelar-konser-di-indonesia-januari-2020.